Restoration Initiatives
In addition to producing new works of art, Chicago Public Art Group is dedicated to the restoration of historic pieces of community art.
Galeria Del Barrio Restoration
Lead Artist: Sam Kirk
Location: 16th St. and Blue Island in Pilsen

Originally painted in 1976 under the direction of lead artist Aurelio Diaz, the overlapping faces display a variety of emotions reflecting a range of Mexican American identities and experiences.
Fallen Dictator Restoration
Lead Artist: Marcos Raya
Assistant Artist: Amanda Mudrouich
Location: 18th St. & Western Ave.

Restoration of this iconic mural was done by the original artist, Marcos Raya. One particularly relevant new addition to this wall, which is one of oldest surviving outdoor antiwar murals in the country, depicts Donald Trump and Hillary Clinton fighting over a missile.
Under City Stone
Caryl Yasko
55th Street and Lake Park, 1972
Under City Stone was created spontaneously on the street: passersby provided instant critique and stopped to pose for the artists. Colors were mixed directly on the wall. The inclusion of the poem Rapid Transit by James Agee mixed text and image in a way that has become almost commonplace today. Under City Stone influenced mural painters around the city, the nation, and the world.
Former resident and renowned Midwest muralist, Caryl Yasko, creator of Under City Stone will return to lead the restoration during the summer of 2008.
Ms. Yasko and Chicago Public Art Group believe the message of the mural is still relevant to the world today; we travel the world with determination, aware that our environment suffers from human degradation, however we believe our lives can make a difference.
Click here for more information.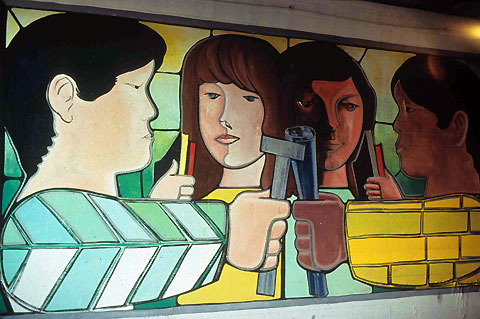 Childhood is Without Prejudice
William Walker
56th Street and Stony Island, 1977
Sometimes referred to as Children of Goodwill. Walker created this mural as a tribute to nearby Harte School. His daughter had attended school there and Walker wanted to express his appreciation for the school's promotion of racial harmony. The tripartite mural, Walker's personal favorite, includes a series of interlocking faces representing the potential unity of all races. Walker originally used interlocking faces in his work to symbolize brotherhood in the black community; in later works he painted faces of various hues and genders to challenge people toi engage in the difficult task of forming interracial bonds. Excerpted from "Urban Art" by Olivia Gude and Jeff Huebner.
Click here for more information.
Alewives and Mercury Fish
Albert Zeno
55th Street and Lake Park, 1972
This classic underpass mural was painted as an indictment of the industrial pollution of the Great Lakes, especially the consequence of the invasion of alewives into the freshwater lakes, an event here witnesses by a procession of local residents. Humans' subjugation of nature is thematically linked to scenes of shackled and liberated black people. The mural closes as mothers of all races nestle their infants and fish swim freely. Excerpted from "Urban Art" by Olivia Gude and Jeff Huebner.
Click here for more information.
All of Mankind
William Walker, 1973
617 W. Evergreen Ave.
Walker spent three years covering the exterior and interior of the San Marcello Mission Church with murals about the unity--and disunity--of the human race. Located at the edge of the Cabrini-Green public housing complex, the church facade features one of Walker's recurring motifs: four heads, representing different races, interlocked in a symbol of brotherhood and goodwill. Around the window is a list of civil rights-related martyrs and events, including Dr. King, Medgar Evers, the My Lai Massacre, and the shootings at Kent State. The future of Chicago's "little Sistine Chapel," now the Strangers Home Missionary Baptist Church, is uncertain. Efforts are being made to save the church and the mural.
Click here for more information.
TILT (Together Protect the Community)
John Pitman Weber, 1976
2100 W. Division St.
Painted with the neighborhood residents, TILT (as it's popularly known) depicts a monumental racially mixed group of people protectively embracing their homes against a background of decorative patterns similar to old-fashioned wallpaper. While smaller figures "build" their community through work and play, others fend off drugs, vandalism, gangs, absentee landlords, real estate speculators, unemployment and freeways – all of which threaten the quality of life. These dark tilted images on the north half are meant to be seen only by the local audience; eastbound traffic on Fullerton sees only the positive harmonious images.
Click here for more information.
Where We Come From...Where We're Going
Olivia Gude
56th Street and Lake Park, 1992
For this oral history mural on the Metra underpass in Hyde Park, Gude asked various passersby, "Where are you coming from? Where are you going?" The images and words are drawn from photos of the people and their taped responses, which ranged from the mundane to the political to the metaphysical.
The variety of quotations suggests that people within a given geographic area may not necessarily hear each other's voices--though the very act of pointing out these overlapping stories suggests the possibility of initiating conversation and creating a "community of discourse."
Click here for more information.